Kickin' Valentina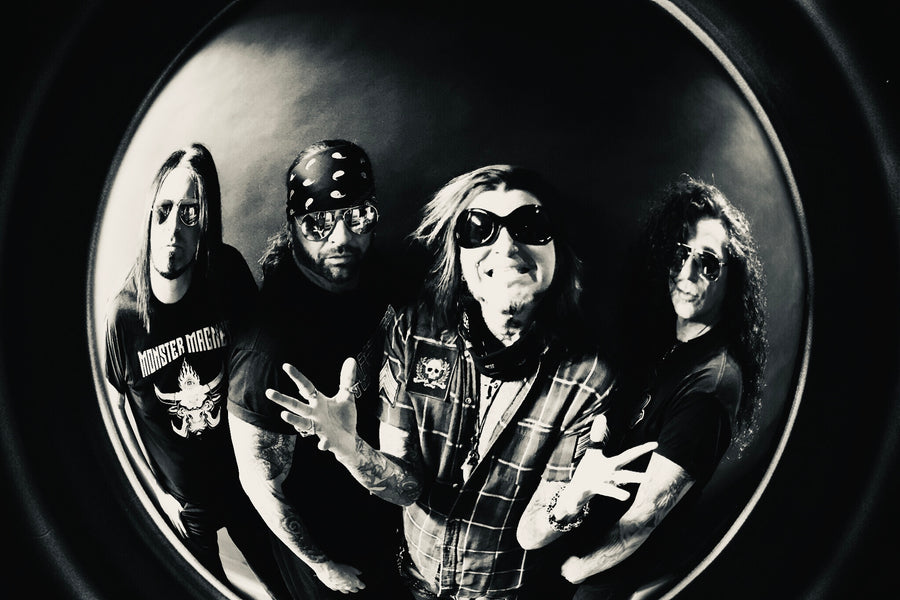 "Pig Hog Cables are the sturdiest and most reliable cables we've ever used.  Can't imagine using anything else."  
KICKIN VALENTINA plays loud unapologetic rock n roll. In August 2017, KICKIN VALENTINA released their second full length album "Imaginary Creatures" on Mighty Music, which debuted on 5 different Billboard charts (Heatseeker Albums #16, Heatseekers South Atlantic #5, Independent Albums #30, Hard Rock Album Sales #11, and Rock Album Sales #42), and the single "Crazy" reached #15 on the Danish iTunes rock charts. The band once again chose to work with renowned Producer/Engineer Andy Reilly (Bruce Dickinson, UFO, Asia, The Quireboys) at Muse Productions in Atlanta. Powerplay Magazine (UK) states, "It's hard to name a recently-released album in this genre that rivals this. Highly recommended." In between playing shows, they are currently writing and demoing songs for their third full length album to be released in 2019.

KICKIN VALENTINA formed in 2013, and the band quickly gained attention in the U.S. and abroad. They were immediately picked up by Atlanta based indie label Highway 9 Records and released their debut self-titled EP in October 2013. In August 2015 KICKIN VALENTINA signed with Danish hard rock/metal label Mighty Music/Target Group and have released 2 successful albums "Super Atomic" and "Imaginary Creatures" to rave reviews around the world. "Touring to support 'Imaginary Creatures' has been an incredible experience. We got to tour the U.S. and Europe, open for some great bands, and meet a lot of fans from around the world. 2019 also saw the addition of new singer D.K. Revelle, whom we are really excited to work with," states bassist Chris Taylor.

KICKIN VALENTINA has been busy touring America and Europe opening for artists as diverse as Buckcherry, Queensryche, Nitrogods, Pop Evil, Fozzy, Skid Row, Red Dragon Cartel, Sebastian Bach, Doro, Eve to Adam, Faster Pussycat, Nonpoint, Kix, and LA Guns to name a few. In addition to their own headlining shows, they are also actively playing a variety of music festivals including Rock Fest (WI), Monsters of Rock Cruise, Lario Music Festival (Italy), Farm Rock (IL, TN & GA), Rock Fest 80s (FL), Soundwave (MD), Rock n Skull (IL), Wolf Fest (CO), Skull Fest (NE), Summer Rock Party (IL), and Outskirts 53 Music & Bike Fest (GA). Upcoming festivals include Call of the Wild (UK), Bang Your Head (Germany), and Rocklanta (GA).

KICKIN VALENTINA has received press in major publications throughout Europe and Japan such as Burrn, Young Guitar, Classic Rock, Sweden Rock, Legacy, Fireworks, Metalized, Aardschok, Metal Hammer, Deaf Forever, Rock Hard, Rock It, Powerplay, and countless online magazines around the world. They were nominated for – and won – the prestigious 2014 GA Music Award for "Rock Band of the Year," and in 2015 they won the GA Music Award for "Video of the Year" for their single "Wrong Way." Their song "Get Ready" has been used by the Jacksonville Axemen Rugby Team for promotional commercials and played during home games, and is also on the soundtrack for the movie "Hair I Go Again."
Kickin' Valentina
"Pig Hog Cables are the sturdiest and most reliable cables we've ever used.  Can't imagine using anything else."  
KICKIN VALENTINA plays loud unapologetic rock n roll. In August 2017, KICKIN VALENTINA released their second full length album "Imaginary Creatures" on Mighty Music, which debuted on 5 different Billboard charts (Heatseeker Albums #16, Heatseekers South Atlantic #5, Independent Albums #30, Hard Rock Album Sales #11, and Rock Album Sales #42), and the single "Crazy" reached #15 on the Danish iTunes rock charts. The band once again chose to work with renowned Producer/Engineer Andy Reilly (Bruce Dickinson, UFO, Asia, The Quireboys) at Muse Productions in Atlanta. Powerplay Magazine (UK) states, "It's hard to name a recently-released album in this genre that rivals this. Highly recommended." In between playing shows, they are currently writing and demoing songs for their third full length album to be released in 2019.

KICKIN VALENTINA formed in 2013, and the band quickly gained attention in the U.S. and abroad. They were immediately picked up by Atlanta based indie label Highway 9 Records and released their debut self-titled EP in October 2013. In August 2015 KICKIN VALENTINA signed with Danish hard rock/metal label Mighty Music/Target Group and have released 2 successful albums "Super Atomic" and "Imaginary Creatures" to rave reviews around the world. "Touring to support 'Imaginary Creatures' has been an incredible experience. We got to tour the U.S. and Europe, open for some great bands, and meet a lot of fans from around the world. 2019 also saw the addition of new singer D.K. Revelle, whom we are really excited to work with," states bassist Chris Taylor.

KICKIN VALENTINA has been busy touring America and Europe opening for artists as diverse as Buckcherry, Queensryche, Nitrogods, Pop Evil, Fozzy, Skid Row, Red Dragon Cartel, Sebastian Bach, Doro, Eve to Adam, Faster Pussycat, Nonpoint, Kix, and LA Guns to name a few. In addition to their own headlining shows, they are also actively playing a variety of music festivals including Rock Fest (WI), Monsters of Rock Cruise, Lario Music Festival (Italy), Farm Rock (IL, TN & GA), Rock Fest 80s (FL), Soundwave (MD), Rock n Skull (IL), Wolf Fest (CO), Skull Fest (NE), Summer Rock Party (IL), and Outskirts 53 Music & Bike Fest (GA). Upcoming festivals include Call of the Wild (UK), Bang Your Head (Germany), and Rocklanta (GA).

KICKIN VALENTINA has received press in major publications throughout Europe and Japan such as Burrn, Young Guitar, Classic Rock, Sweden Rock, Legacy, Fireworks, Metalized, Aardschok, Metal Hammer, Deaf Forever, Rock Hard, Rock It, Powerplay, and countless online magazines around the world. They were nominated for – and won – the prestigious 2014 GA Music Award for "Rock Band of the Year," and in 2015 they won the GA Music Award for "Video of the Year" for their single "Wrong Way." Their song "Get Ready" has been used by the Jacksonville Axemen Rugby Team for promotional commercials and played during home games, and is also on the soundtrack for the movie "Hair I Go Again."